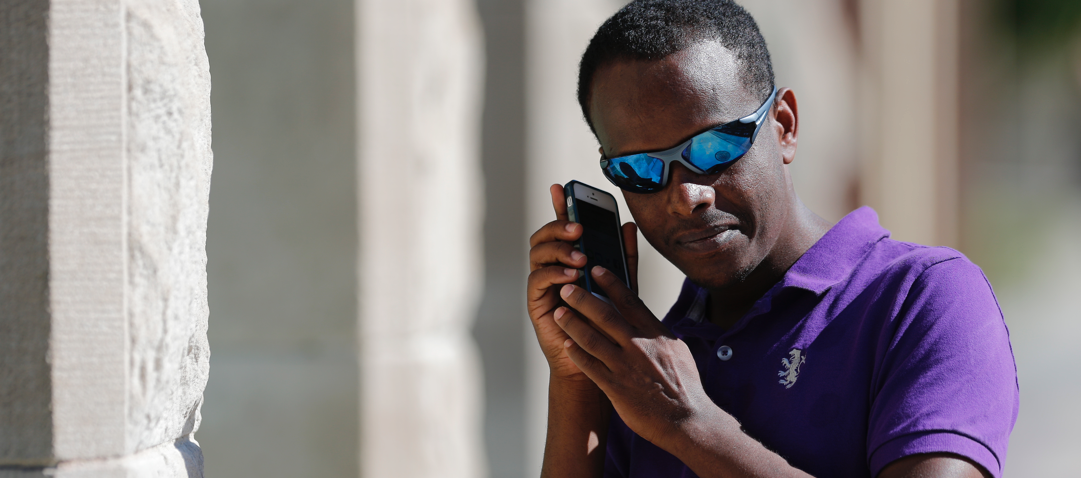 A smartphone can transform someone's life
Many people don't realize the tremendous impact modern smartphones have in the lives of individuals who are blind.
Today, accessible smartphone apps make it possible for people who are blind to do all kinds of things that may have seemed challenging before.
Modern smartphones allow people who are blind to:
Read prescription labels and take medication safely
Recognize the faces of loved ones
Access emergency assistance from sighted volunteers
Travel safely alone using GPS
And do hundreds of other day-to-day tasks most of us take for granted
Did you know?
All smartphones now offer built-in "voice over" technology, which reads aloud everything that appears on the phone's screen so that a person who is blind can access it.
The need is overwhelming
Despite how life-changing smartphones can be for people who are blind, many people with sight loss still don't own one – at least not one that's advanced enough to help them in their daily lives.
For some people, it's hard enough to make ends meet, let alone purchase the latest smartphone.

You donate your used smartphone.
We'll happily accept almost any modern smartphone, and you'll get a tax receipt for the market value of the phone you donated.

We'll wipe and refurbish your phone
If your phone is modern enough to be accessible to users who are blind, we'll fix it up and outfit it with a suite of accessible apps. Otherwise, it will be sold and the earnings will be put towards the cost of a newer or refurbished smartphone for a user who is blind.

We'll give it to a person with sight loss who needs it.
Once your phone is refurbished, we'll give it to a Canadian with sight loss who is waiting for one. We'll also give them one-on-one training on how to use it.
Our Data Safety and Security Process:
We have established processes built around keeping your donated phone's data and information safe and secure. Secure data wiping for all donated phones will be completed using ADISA Standards certified erasure software. This application and process maintains a record of each device donated and can produce documentation for each erasure, including device specific IMEI, device technical descriptions, and erasure date and time stamp. Corporate donors can be provided with a proof of data wiping report at their request.
Devices that won't power on will be destroyed and recycled by a registered recycler certified to R2 and NAID standards. Records for proof of destruction can be provided where requested. Devices with passcode locks and other security protocols that prohibit data wiping or those identified as lost or stolen will be quarantined and reported back to the donor company.

CNIB Foundation is a national not-for-profit organization driven to empower people impacted by blindness to live the lives they choose. Funded by charitable donations and enabled by the selfless contributions of volunteers, we are changing what it is to be blind through innovative programs and powerful advocacy, delivered in communities from coast to coast to coast.